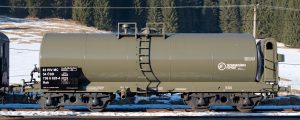 Late last year we were asked to help in interesting project of reconstruction and restoration of historic pit that was made back in 1961. Cistere we manage to revitalize and got new "outfit" by applying of a new layer of color earlier this year. The four-axle wagon Rah CSD was produced by Tatra n. p. Studenka. It is a special freight wagon designed for the transport of mineral oils. Wagon construction is self-supporting and form the basis of sheet steel tank. Buffers are tubular in shape with a square plate. The cylindrical metal container has welded construction. On its back is in the middle of the boiler a dome with a filling hatch, it is installed on a safety device against overpressure. The wagon has parking brake and pressure brake of DAKO system.
This wagon is taken into the care of the Club of historical railway vehicles. When repairing wagon it was found that the cars are bound carriage, according to data plate made in 1963 in TATRAVAGÓNKA.
After repairs in our company where we participated as a main partner, the wagon has been deployed for her first performance in the month of February. Guarantee supplies of water for steam locomotive with steam traveling in Slovak paradise for photographers from Austria, Germany and the Czech Republic. Subsequently, the wagon used by members of the Club of historical railway vehicles exclusively for nostalgic rides, which will serve as a water reservoir for steam locomotive 477.013, historic freight wagon included in a train fire and freight photo-trains in domestic and foreign nostalgic events.
In 2017, the wagon can be seen in actions such as:
27.5. – Season opening Spis Castle
3. – 4.6 – Railway for children Vrútkach
17. – 18.6. – The national meeting of historical vehicles in Bratislava
2.9 – Railway Day in Humenné